Dear MODeL Users,
We wish you a Happy New Year! May you all be happy and healthy the whole year through.
As we welcome another year of learning and growth, we are happy to announce that this 𝟮𝟬𝟮𝟯, UP Open University (UPOU) is offering 𝟮𝟯 𝘀𝗵𝗼𝗿𝘁 𝗰𝗼𝘂𝗿𝘀𝗲𝘀 with 𝟱 additional 𝗺𝘂𝗹𝘁𝗶𝗺𝗲𝗱𝗶𝗮 𝗽𝗿𝗼𝗱𝘂𝗰𝘁𝗶𝗼𝗻 𝗰𝗼𝘂𝗿𝘀𝗲𝘀 for 𝗙𝗥𝗘𝗘! Check out this year's UPOU MODeL MOOC Calendar and find the courses that best suit and serve your personal and educational goals!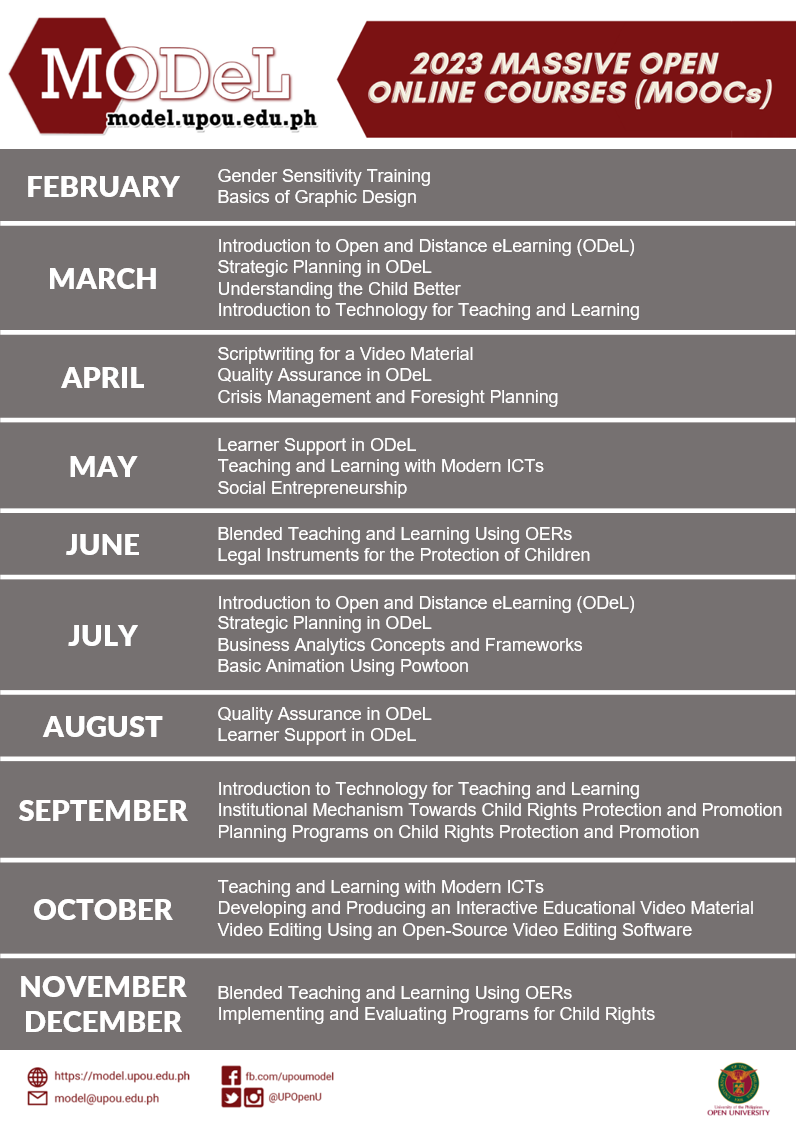 All of our courses are FREE, SELF-PACED, and OPEN to everyone so you may complete them at your own convenience. At the end of each course, e-certificates will be awarded to course completers which you may include in your resume as a 16-hour training.
Exciting, right? Register now and allow us to gear you up in your self-development journey! For more information, send us an email at model@upou.edu.ph. Happy learning!
Best,
UPOU MODeL Support